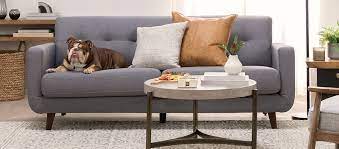 8 Cleaning And Maintenance Tips For Sofas
Stains and messes could leave your living room looking bad and not fir for people to come and sit. Even you would not like to bring home guests to an untidy and dirty-looking living room. But you cannot let yourself be weighed by the burden of a dirty living room coupled with messy sofa sets. 
Your living room sofa set has to always be in good order so that you can just welcome any guest any time that they want to drop by in. Pets, small children, and the toll of everyday living could show on our sets, so you have to get rid of them.
What To Clean The Upholstery Of Your Sofa Set With?
You cannot just simply scrub the upholstery of your sofas sets with your bare hands. For that, you need certain items that could help you achieve the extremely squeaky clean sets that could be the envy of your guests. The items that can be used in cleaning are:
A dry brush

Baking soda

Water

Vacuum

Drying towel

Vinegar

Steamer
To use these items, you must actually have a good and fair enough knowledge of the material that your living room sofa set is made of. When buying the set, you must have received an owner's manual with it. Go through it very carefully; you may just need some useful tips on caring for your set. You must know the cleaning agents and solvents that you must use to clean them.
Tips On What You Must Do When Your Sofa Set Becomes Dirty
Tip 1
You may have the traditional sofa set or a two seater sofa – whatever it may be, you must immediately get down to cleaning it as soon as it becomes unclean or there is some sort of spill on it. It could be that the stain will not get removed if you do not attend to it immediately. So get down to working on it immediately.
Tip 2
As mentioned before, you have to go through your manual to understand the fine details regarding your sofa set. There in the manual, there may be instructions on the cleaning agents and solvents that are to be used. If you do not act accordingly, then your set may get permanently damaged, and you lose out heavily on your resources. 
Tip 3
Check for the codes that are present on the tags of your living room sofa set. They will tell you a lot in terms of how to clean and with what to clean. 
Tip 4
You can use a dry brush specifically designed for your sofa. It will help to loosen the dust and dirt particles with which half your job of cleaning your sofa set is done. The brush will have stiff bristles with which your job can be done.
Tip 5
You can also use a vacuum cleaner. Nowadays, you get cleaners that are specially designed for cleaning beds and sofa sets. Buy yourself a vacuum cleaner that is just perfectly suited for your purpose, and you get a perfectly clean sofa in no time at all. It will help you move to every corner and crevice of your sofa where you may not be able to reach out with your bare hands and a towel. 
Tip 6 
Using baking soda is probably the oldest and most time-tested method of cleaning your sofa set. Apart from being very cost-effective, it is also very effective in nature. It will remove the dirt and the stain; it will also help you get rid of any foul smell that may emanate from that dirt. You can use the soda solution when mixed with water. But whatever solution you use – be it dry or wet, you will have to allow that mixture to set in on the area for at least 15-20 minutes. 
After that, you can use our vacuum cleaner to get rid of the stain. But before you use that method, complete a spot treatment method to understand fully well that no harm will be caused to your sofa set.
Tip 7
Again to clean your sofa set, you may use a soft towel to pat dry on the affected area. It will soak up all the moisture, and your two seater sofa or your normal sofa, whatever it is, will become clean again.
Tip 8
Air drying your sofa set means letting your set dry out naturally overnight. That means you pat it dry with some cleaning agents that are recommended for your set and dry it out with a soft clean towel and let it dry up overnight.
Some Codes That You Must Look Out For On Your Set
If you notice the codes marked on your sofa tag, you will understand how and with which they are to be cleaned. When they are marked with:
W – It means you must use only a water-based cleaner for your sofa.

S/W – This means that you can use a solvent and water to clean your sofa. You can safely use them on your sofa without the fear of any damage.

S – This again means that you should use only a solvent to clean your set. It has a chemical in it, but if the tag says that you can use it, there will be no harm done to your set.
Again before closing, there are a few more tips that you can implement to keep your set clean. If you choose the right fabric, stains will not be left on them. Try as much as possible to keep it protected with some sort of coverage that you can easily take off and wash when necessary. Keep changing the positions of the seat cushions so that they do not get too dirty sitting in the most often-used spots. 
Make sure that you regularly clean your set as it will dust the particles away as it will not allow any stains to catch onto your sofa set. If everything fails, you could call in professional help to clean your set. That way the best job will be done.