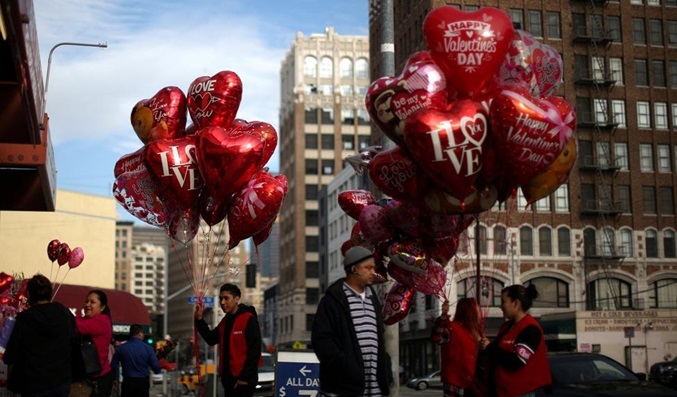 How to Surprise Your Girlfriend on Valentine's Day
Valentine's day is coming up, and it's a perfect chance to show your girlfriend how much you care about her. Yes, we all agree that we shouldn't look for particular dates because we should appreciate our loved ones daily. But we can all agree that there's something special about Valentine's Day, so here are 15 ideas to inspire you. If you want to express your feelings to your girlfriend and shower her with special attention, not just the one you show daily, you better look at your calendar.
Become a poet for the day
Every girlfriend complained at least once about how they would like their partners to be more romantic. If you're one of those guys who doesn't feel like romantic outbursts are their thing, we have a perfect idea. Try writing a love letter or poem expressing your feelings, address it to her, and deliver it on Valentine's day. You can even hire a courier service to hand deliver it to her. It doesn't have to be perfect, Just take some time to sit down and consider your feelings for her. Write from the heart and tell her exactly how much she means to you. A handwritten note or poem will be a physical reminder of your love that she can hold onto for years.
Be a cook for the day.
What could be a better way for you to surprise her than to make her a home-cooked meal or bake her favourite dessert? You could even set the table with candles and flowers to create a romantic atmosphere. If cooking isn't your strong suit, consider baking your favourite dessert as a sweet treat.
Go big with a surprise weekend getaway.
Going big with a surprise weekend getaway doesn't mean you have to drain your savings account. You can plan a surprise weekend trip to a nearby spa or a romantic bed and breakfast. We all enjoy stepping out of our routines and travelling, even if it's a romantic getaway. You get to spend quality time together and have a chance to celebrate Valentine's Day without distractions. Look up your options within driving distance and make reservations on time. When the day comes, surprise her with the plans and pack a bag for the two of you.
Buy tickets for a show.
You probably know her preferences when it comes to entertainment. If you don't, you can always ask her friends who show or event she would most definitely enjoy. It can be a concert, a female stand-up comic performance, a play or even a sports event. It doesn't have to fall on Valentine's day it just has to be a ticket for something she's always wanted to see or attend. This memorable experience is a gift; your thoughts and efforts will be appreciated and remembered.
A scrapbook or a photo album
If you've been together for a while now, you've already showered each other with plenty of gifts. That's why you can surprise her with a personalised gift, such as a scrapbook or photo album. Remind her of all the memories, photos, events and moments you've shared together. You can even take a picture of yourself making this scrapbook and include it in the album. Because love isn't about giving each other's gifts on Valentine's day, it's about all these memories you created and will continue to make. A scrapbook or an album is a reminder of the time you shared together.
Flower delivery
Since Valentine's day this year falls on a Tuesday, you can arrange for a bouquet of flowers or other unique gifts to be delivered to her at work. Especially if the office people have been interested in her private life, you can give them something to talk about by the water cooler. Choose Valentine's Day rose bouquet and brighten her day. Let her know that you're thinking of her, and make sure to write that on the card. This is about the element of surprise; if the office gets talking, that will just be a bonus. Either way, you'll put a smile on her face.
Share a custom playlist with her.
Music plays such an essential role in our romantic lives. Music can be a powerful way to express your feelings and bring back memories. Coupled people can all agree with this statement. That's why you should create a custom playlist of songs that have special meaning for the two of you. This could be a collection of songs you listened to on your first date, songs that remind you of memorable moments in your relationship, or just songs you both enjoy. Spend some time putting together a meaningful and special playlist for the two of you.
Take silly pictures together
This one is not about just turning on your selfie camera and making funny faces. This one is about renting a photo booth first, so you'll be able to have fun. Above all, you'll take silly pictures together and maybe even throw a party for your coupled friends so they can take silly photos too. If you're looking for a great way to capture memories and have some light-hearted fun, this is a perfect idea. Photo booths are often hired for parties, but you can also rent one just for the two of you. Blast some great tunes, Strike a pose and capture some silly and memorable photos together.
Movie night
Watching movies together is a great way to have fun together and spend quality time as a couple. A romantic movie night, with popcorn and her favourite film high on the list of movies to watch together, is another thing you can do together.
You can snuggle up on the couch, order your favourite food and enjoy a relaxing evening together. You can also make it even more romantic if you prepare everything for her on your own, from popcorn to finger food. Make it extra special by cuddling up on the couch and watching a movie together, and connecting even more deeply.
Turn a plan into a special outing.
If you've always talked about going on a hot air balloon ride or visiting a nearby winery, here's your chance to turn a plan into a special outing. Plan a special outing or activity, such as a picnic, a trip to the beach, or a couples massage. Get creative and think of something that the two of you will both enjoy. Think of the things you've always talked about doing together but never actually planned out. These kinds of special activities are bonding activities. You'll make new memories together, get out of a couple's funk and celebrate this romantic day with a purpose.
Gift her a spa day
Letting your loved one know that you want her to have a fabulous spa day on her own because you love her so much is the ultimate form of love and self-care. Give her a gift certificate for a favourite store or a spa day. You can even let her choose something that she loves and will enjoy doing on her own.  A gift certificate is always a safe bet if your girlfriend is hard to please. It shows her that you care that she picks out something that she truly wants or needs, like a facial or a mud bath, or whatever it is that women do on those spa days.
Piece of jewellery
Diamonds, indeed, are a girl's best friend but only if your girl is the one who enjoys jewellery. Women do appreciate jewellery and consider it a thoughtful and romantic gift. It can be anything from a pair of earrings to a new bracelet or a necklace. Just make sure to get the receipt just in case she wants to return it and exchange it for something else.
Dress up for a date night
Date nights are always a good choice, especially on Valentine's day. But this time, make sure to dress up nicely. Plan a special date night, such as going out to a nice restaurant or seeing a play. Dress up and make an evening of it. You can even get your date some nice lingerie and tell her that you look forward to seeing that outfit later in the evening. Make sure to make reservations at a nice restaurant ahead of time so your plan can go as smoothly as possible.
Recreate your first date
This is another idea for those who aren't as romantic, and their partner always complains about that. This is your chance to swipe them off their feet by recreating your first date, a memorable date from the past. You can even dress up the same way, wear the same perfume and take her to the exact same location.
These ideas will show that you prioritise quality time together and want to give her something special for Valentine's day. Putting a smile on someone's face can be as easy as creating a special playlist for them or having flowers delivered to their office. Making someone feel special doesn't take much, but the memories last forever.