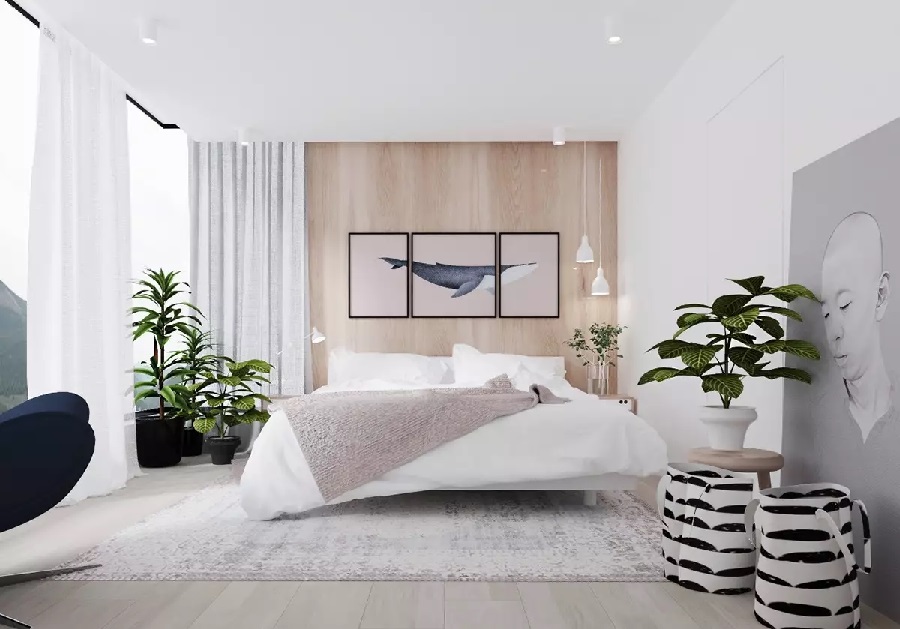 8 Smart Tips To Renovate The Bedroom
Bedrooms are that place that is absolutely your own private space. It is that place where you let down your hair and stay relaxed in whichever way you feel good. And here it is known that all bedrooms are not for everyone's taste and liking. They differ from personality to personality. Some prefer to do it with an aura that reflects peace and calm, while others may want it to reflect lots of positive energy and vibrancy. So it all depends on what you want in your bedroom.
If you want to remodel your bedroom, here are a few tips you could look up while doing the room.
8 Smart Tips To Remodel Your Old Bedroom
Change The Bedroom Furniture
Your existing bedroom may already have just the right décor, colour, and size that is okay with you. But if you refresh and remodel the same thing with just a bit of addition and alteration here and there you might just land up with a spruced-up bedroom that could make you feel good. You could get some new bedroom furniture and replace the older ones.
You can change the position of your existing dressing table and wardrobe , and it might make some difference for you. If you are not interested in changing the present ones, just get them re-painted or burnished if they are wooden ones and change their positions. You will feel like you have some new bedroom furniture that will make you feel good.
As for your bed, changing the mattress may do you a little good. It gives the all-new feeling while you are just using your same old furniture. Nowadays, things have gotten even simpler with access to such stuff. You can buy mattresses online while you sit at home and get it door-delivered to your place.
You can browse through their online catalogues and buy yourself a new bed mattress.
Other Bedroom Furniture
The other furniture in your bedroom would include wardrobes, almirahs, a dressing table , and a small sofa set that could act as your personal sitting area where you need to have anyone enter and sit on it.
There are many renowned and branded shops in town that have multiple almirah designs. You can just simply choose from one of them and spruce up your old bedroom and turn it over into a new leaf. But today, there are many innovative and designer bedroom cupboard designs that you could look up. They have a lot of extra storage that you could do with.
Bedroom Lighting Fittings
The maximum lighting that any bedroom has is a flush-mounted lighting system. You will never almost see any lights from the ceilings of any bedroom. But nowadays, with so many options available, you can always check out some statement pieces from renowned stores that are stocked up with furniture and all other home solutions.
Bedroom Sitting Area
This is only possible with a huge bedroom that has ample space after furnishing it with bedroom furniture like almirahs, wardrobes, cupboards, dressing tables, etc. But if you can manage a sitting area in your bedroom, then that is absolutely cool and chic. It feels wonderful to have a separate place to relax at times, with a book in one hand and a coffee mug in the other. The afternoons are spent lying there reading on holidays. That way, you can make your bed a sleep-only place, and the bed is left untouched all day long. And yet you get to enjoy some privacy in your room.
In your sitting area, you can have a rug spread on the floor, and the room looks absolutely cozy and comfortable. Who would not love to have such a bedroom?
Increase Storage
Storage is a basic problem with everyone nowadays because of premium space. So you have to make do with whatever you have in hand. But if you think and act cleverly, you can definitely increase storage. Look up bedroom cupboard designs that have a lot of hidden space here and there in the cupboard itself. You could store your smaller things there.
Next, you can replace your old bed with a bed that has storage in it. That is the latest in bed designs. Beds with storage in them help people to store a lot of stuff that you will not be able to even imagine could have happened.
Now if you have enough space near your windows, you could get experts to come and make space under them, bringing you more relief. Add shelves that are decorative wherever you think will look good. That will bring you more storage.
The Dressing Table Area
If you have a big bedroom, then the dressing area is not a problem at all. But most bedrooms these days are small. So if you can manage a tiny bit of space in your bathroom for the application of makeup and creams and so on, it would leave you with more space in your bedroom. If not, then you will have to spruce up that area with hanging dressing tables that are available these days. They are functional, yet they consume less space.
While Renovating, Ensure More Natural Light
Try to make more windows and space that allow the entry of natural light into your room. More natural light means fewer electricity bills. And they are better for your health and eyes. This is because LED lights are in great use these days and two lights in a minimum space are bad for health.
Mirrors Can Play With Your Illusion
You know one thing; mirrors can play with your illusion. If you install mirrors in your room, they will make your room look bigger than they are actually is. So try out mirrors wherever you think are suitable, as that will create some magic in your room.
And in conclusion, it can be said that if you have tailor-made furniture, then it suits you perfectly well with your room and makes your room just the kind of room that is in everyone's dreams.