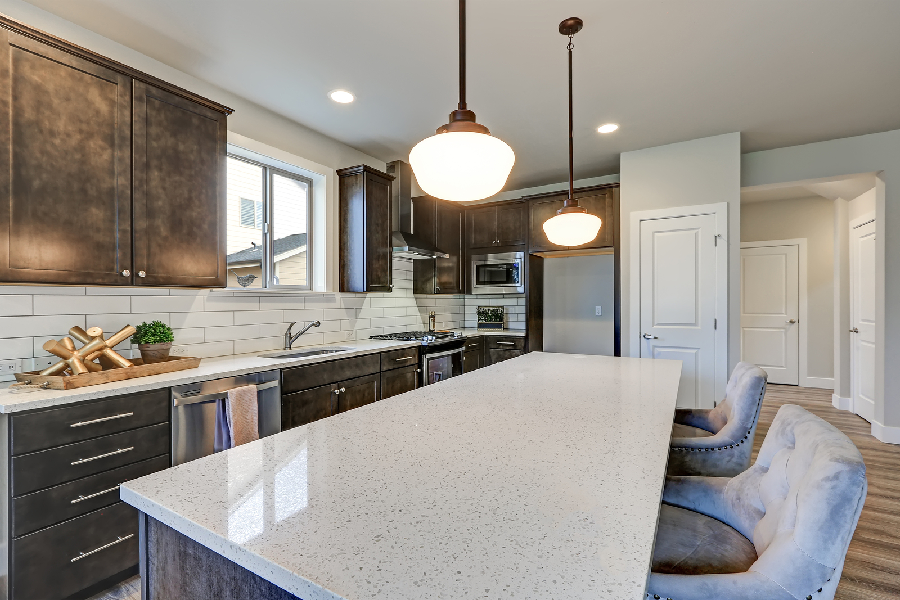 ARE YOU CONSIDERING QUARTZ COUNTERTOPS FOR YOUR KITCHEN RENOVATION?
Granite has consistently led the way in kitchen countertop materials over the last several years. Quartz countertops, on the other hand, are a more recent and popular contender. According to Kitchen and Bath Design News, "quartz is the most popular and fastest-growing kitchen countertop material." Granite is the second most popular countertop material, but its popularity is dwindling.
Unlike granite countertops, which are entirely made of natural stone slabs, quartz countertops are not entirely made of quartz. Quartz countertops are typically made up of 95% ground natural quartz and 5% polymer resin, though these percentages can vary depending on the manufacturer. As a result, they are also referred to as "engineered stone countertops."
The fineness with which the quartz is milled determines the appearance of the countertops. Finer quartz has a smooth surface, while coarser quartz has flecked surface. Until recently, quartz would frequently try to mimic the desired appearance of granite. Quartz countertops have a smooth, clean appearance that many homeowners prefer these days. This is particularly true in contemporary kitchens.
The primary advantage of quartz over granite is that it is non-porous, which means it does not require sealing. It is also more resistant to scratches and stains, and it is simple to clean with soap and water. Quartz has even begun to appear in bathroom showers and kitchen backsplashes due to its ease of fabrication. One of the best things about quartz is that it is non-corrosive.
As an added bonus, quartz is becoming more affordable than in the past. This could be due to its increasing popularity and the growing number of manufacturers who offer it. Quartz countertops cost about the same as granite countertops.
While quartz countertops have many advantages, they do have a few disadvantages. The fact that quartz countertops are not very heat resistant is a minor disadvantage. For those who have quartz countertops in their kitchens, hot pads and trivets are essential. It is also strongly recommended that quartz countertops be installed by a professional. After all, quartz countertops are extremely heavy.
Quartz countertops are becoming increasingly popular in kitchen remodels, and it's easy to see why. Quartz is a top contender for countertops due to its non-porous surface, competitive pricing, and long-term durability.