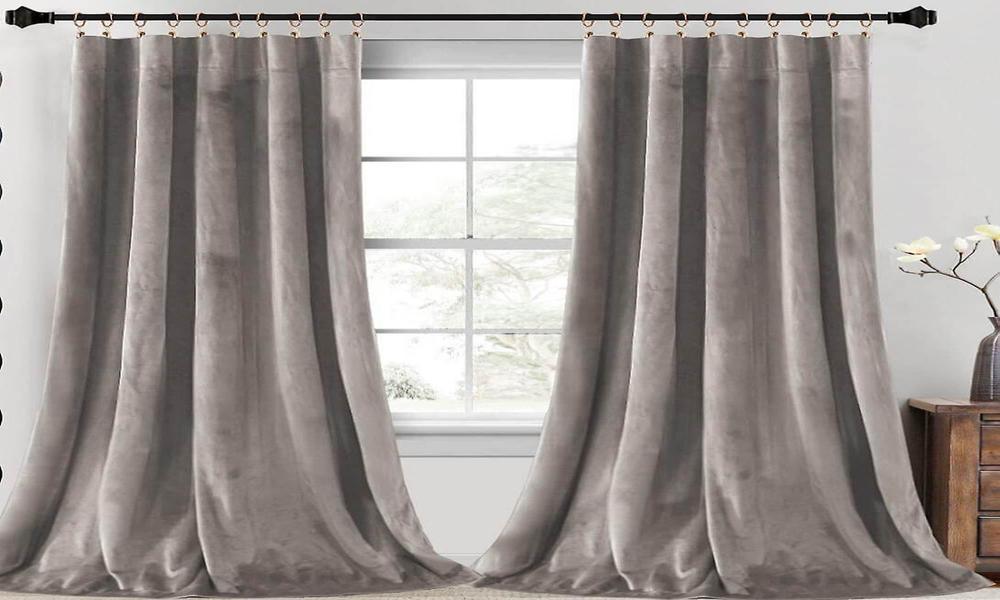 Decorate Your Home with the Timeless Elegance of Velvet Curtains
Curtains have a significant value in it's own and when you hand luxurious curtains then it also adds beauty and grace to your room or home. Velvet curtains are an elegant, stylish, and sophisticated addition to any home. They exude luxury, comfort, warmth, and a sense of grandeur that can transform any room. Whether you're decorating a traditional or modern space, velvet curtains can add a touch of elegance that's hard to attain with any other ordinary fabric. So, here I will discuss the timeless elegance of velvet curtains and offer some tips on how to decorate with them.
Velvet curtains are basically made from a rich, smooth, and soft fabric that has a short pile and a dense weave. They're made by weaving two layers of fabric together, then cutting the top layer to create a soft, plush texture. That's why velvet fabric is heavy. Velvet is known for its ability to absorb and reflect light, giving it a royal, luxurious, and almost shimmering appearance.
Why Choose Velvet Curtains?
Velvet curtains provide several benefits over other types of window treatments like curtains and shade. First and foremost, they add a touch of royalty, luxury, style, and elegance to any room. They're also excellent at insulating against heat and cold, which makes them a great choice for energy efficiency. Velvet curtains are also very durable and long-lasting, which makes them the best investment for any homeowner.
How to Decorate with Velvet Curtains?
From traditional to modern, velvet curtains work well in a variety of decorating styles. Here I'm sharing some tips on how to decorate with them:
Choose the Right Color
Velvet curtains come in a wide range of types, like different colors, so you can select one that complements your existing decor. Deep jewel tones like emerald green, sapphire blue, and ruby red are classic options that work well in traditional spaces. And if you prefer a more modern look, then you should consider lighter colors like blush pink or dove gray.
Hang Them Correctly
It's important to make sure that velvet curtains are properly supported, because velvet curtains can be quite heavy. Use sturdy curtain rods and brackets that can deal with the weight of the fabric. You can also add a lining to your curtains to help velvet curtains hang more smoothly.
Layer Them
When layered with other fabrics, velvet curtains look even more luxurious. Try layering them with chiffon curtains or linen drapes for a smooth, soft, and romantic look.
Add Some Contrast
Velvet curtains can be quite bold, so you should consider adding some contrast color with lighter furniture or accessories. A crisp white sofa or a light-colored area rug can help to balance out the richness of the velvet.
Don't Overdo It
It's important not to overdo it while velvet curtains are beautiful. Too much velvet can be overwhelming and make a room feel stuffy. Instead, use velvet curtains as a statement piece and balance them out with other designs, textures, and materials.
Conclusion
Velvet curtains are a timeless option for anyone who is looking to add a touch of beauty, elegance, and luxury to their home. Whether you're decorating a traditional or modern home, velvet curtains provide an outstanding and graceful appearance to your home.