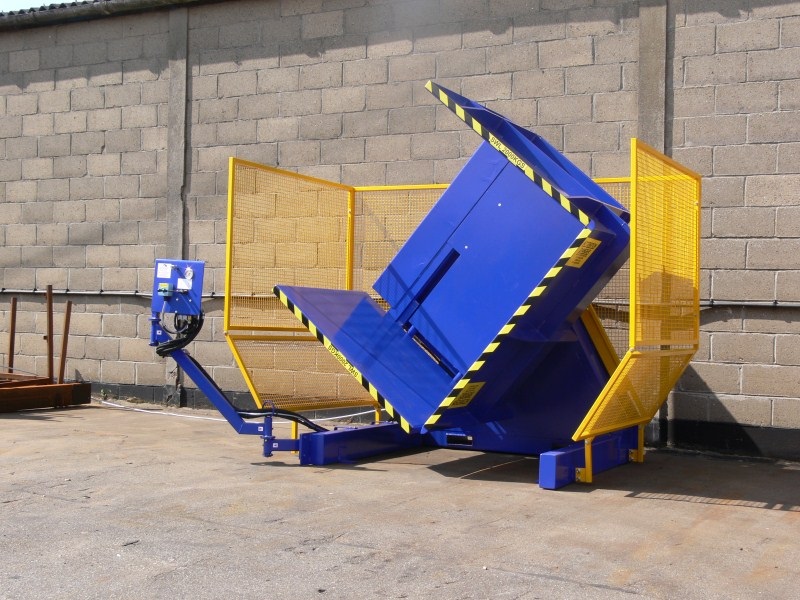 Different Styles And Models of Pallet Inverters
Pallet inverters have made the pharmaceutical sector, the food & beverage industries, and warehouse facilities load-handling tasks easy. They are available in a variety of styles and models designed with a heavy-duty framework aimed at handling any kind of dock loading, unloading, moving, and transportation tasks.
Top Industries regularly offer stationary, portable, and fully automatic pallet inverter versions for sale in 2023. Just check out their website to discover the models on sale every month!
Different styles & models of pallet inverters/exchangers
Classic single clamp
It is a standard option available in customized sizes. It has a 180° rotation and you can load it with a forklift. The SC models are user-friendly and low maintenance. They are suitable for light loads with 79" dimensions and 3300 lbs. of maximum weight.
It is a low budget comprising of a single movable platform. It is perfect for confined spaces and is available in automatic and manual versions.
Game Changer
It is equipped with a couple of 2 automatic pallet stackers that can handle 50 pallets in an hour. It handles loads with a height of 83" and a weight of up to 3300 lbs. The Game Changer model is available in PLC-operated automatic versions and even manual versions.
Falcon Wings
It is a great solution for handling fragile, unstable, and non-tipping items with total safety. It has two extendable blades, which support the load as it is raised. It is a mobile pallet changer comprising of electrically powered trolley capable to load 3300 lbs. Tiller controls and a gel battery powers it. Pallet replacement is made easy with Flacon Wings even in confined spaces.
Side Mover
The model is ideal for pallet exchanges without toppling the products. It is a stationary model and changes 60 pallets in one hour. It lifts & transfers load safely from one pallet to a new one with a side push.
Pallet Retriever
A user-friendly portable solution for handling different load types in a versatile manner. It tips the load up to 95° and handles pallet load height up to 79" and weight not more than 2700 lbs. Pallet Retriever is equipped with an excellent battery capacity of working for more than 9 to 10 hours with a single charge. For non-stop cycles, you can automate the machine.
Pallet Upender
Pallet Upender not just changes pallets but even helps in the removal or insertion of freezer spacers between pallet loads. You can choose a manual or an automatic version. In the manual version, the pallet switch is done via a control panel. In the automatic model, the pallet load is put on a conveyor belt to enable nonstop operations. It is a system perfect for handling high-frequency pallet handling tasks.
Side Pusher
The system pushes the load from its origin pallet to the destination pallet. It can even handle and store the slip sheet. It is an automatic solution with 2 pallet stackers, where one is for original pallets and the other for destination pallets. Each has a capacity of handling 15 pallets at a time and 100 pallets per hour.
There are many more pallet inverters available on Top Industries. You can follow on Twitter to find out what other users say about their products.