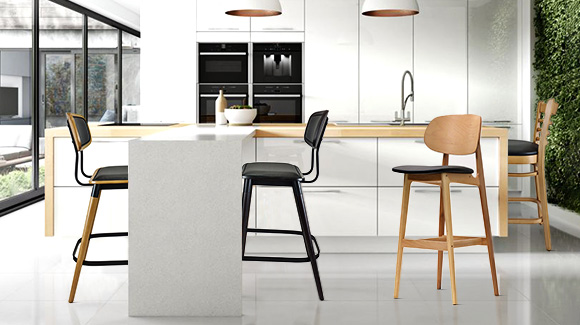 How to choose bar stools: A guide
Some suitable high stools perfectly complement the high table or counter in our kitchen. Today the market offers us a wide range of stools, the really important thing is how to choose Bar Stools based on our needs and the use that we are going to give them.
The most important aspects to look at when choosing a stool are The stool's seat height, the type of backrest and the type of legs, and whether we want it upholstered or not. Combine these aspects well and you will have the perfect stool for you!
Let's differentiate them by the backups, there are mainly three types:
No backing
These stools are ideal when we are looking for them to be hidden under the counter or we are looking for a lightweight and lightweight stool. Designed to be there for a short period, such as breakfast or fast food.
With medium back
These models are the most popular. Having a small backrest allows us to sit for a longer period in restful since we can support our back. If it is necessary for them to be hidden under the counter, we must pay attention to both the height of the seat and the height of the back itself.
They are suitable for breakfasts, and meals in a more natural and restful way.
With a high back
The latter are models with a seat similar to a chair. They are more cumbersome aesthetically because they occupy more visually, but they allow us to maintain a more natural and restful position since they allow us to fully support our back. They are the most appropriate, for example, if we work on a stool or if we want to remain seated for a longer period.
If we differentiate them by type of legs, we again have three main differences:
Elevating stools
They are the ones that allow us to regulate the height of the seat using a hydraulic piston. It is important to both the quality of this elevating system and that they are stable, with a solid base to prevent falls.
If you need to move them, keep in mind that they are much heavier than a four-legged stool. Glossy chrome finishes are bright but much more difficult to keep fingerprint-free. A good epoxy paint finish will allow you to clean them quickly and keep them like the first day for a long period.
Metal legs
Choose this option if you are looking for a light stool that visually takes up little space. There are models with square or round tube legs depending on our taste. They are finished in a wide range of colors. The footrest will help you to sit better, and more comfortably, and will allow you to support your feet, it will also give rigidity to the whole.
Wooden legs
They are the best option when we are looking for the warm aspect of wood or a Nordic style. They must be solid and with good joints, so try to avoid those that are delivered disassembled or with visible screws, these can be more unstable. Note that the wooden footrest is protected with a metallic coating so that it does not wear out with use and present a bad appearance.
Another way to differentiate them and choose the best one is the seat height:
This is a very important aspect for you to use comfortably. The distance between the seat and the counter should be between 25 and 30 cm, a 65 cm high seat will be suitable for counters with a height of approximately 90-92 cm, such as kitchen counters.   A seat height of 75 cm will be adequate for tall bars between 105 – 108 cm high.
Regarding which type of seat to choose:
Stools with seats made of wood, lacquer, plastic, upholstered, laminated … It depends on your taste.
A wooden seat will be easy to clean and maintain even if it is harder to sit on.
If you choose the upholstered stool, it will be more fluffy and soft, so it can give you extra comfort. Choose it with good quality upholstery and easy cleaning. Today there are super beautiful and aesthetic fabrics, whether they are vinyl or Acuaclean, for example, that decorate and also make their maintenance much easier.
Another possibility is high stools can give you a modern touch, they weigh little and in some models, the seat and legs can be the same color and achieve a very elegant uniformity.
There are even more materials for the seat of a stool, and an example of resistance and ease of cleaning are the stools with laminated seats and backrests. 
Finally, the possibility of metal stools, they are very resistant, and therefore also used in backrests. Following your instinct, and your taste and taking these tips into account, you will surely find your perfect high stool.