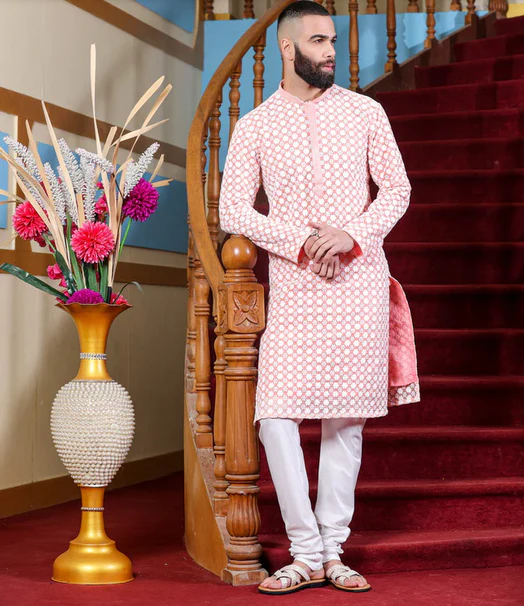 Kurtas for Every Occasion: Choosing the Right Kurta for the Right Event
Just like women, even men's dressing sense holds a very important position in their lifestyle. However, we see men struggling when choosing the different types of ethnic wear. It is because you get a lot of recommendations for western attire from all across the globe, but for the ethnic ones, which are solely based in India, the fashion recommendations also come from the country itself.  So if you are not aware of different kurtas for men online, then this post will give you detailed information about the kurta for men that you can pick for different occasions in your life.
Basic cotton kurtas for casual outings and days: If you just want to be comfortable and slay in ethnic wear, then get yourself a thin, cotton basic kurta for men. If the fit is right, this is all you'll require for a stylish and confident appearance at work and the most appropriate attire for your casual outing with friends or family. For the ideal colors, go with the seasonal trend! Pair this kurta with pajamas or

jeans

and sandals for such informal occasions.

Pathani suits: Pathani suits can be similar to your kurta and pajama set, but because of the stitching style of the kurta and pajama, they are called differently. The kurtas of the Pathani suits are always collared, and the sleeves have a cuff. You can easily adorn this Pathani kurta on your formal occasions, like for your office days and also for festivals, formal dinners, and lunch. If you pick light pastel colors or neutral ones in the Pathani kurtas, then these would be the perfect summer wear for you too.

Angrakha kurta: The perfect blend of Indo-Western fashion is the Angrakha kurta. It fits your body just like a blazer and reaches above your knees. The side buttons and openings make it appear all the more stylish! You can wear your trousers and pants with this Angrakha kurta and get ready for

weddings

and festivals like never before, and you'll look elegant and sophisticated in it. And if you are wearing a chudidar with this angrakha, even then it becomes the perfect attire for festivals and family gatherings.

Chikankari Kurta for men — Let's talk about one of the most favorite kurtas of Indian men—the Chikankari kurta. You'll find very detailed thread work on these kurtas, which are always made of pure cotton fabric. The fit of these kurtas is preferred a bit loose for men's bodies, but that's how their beauty manifests on your physique. Though you get these Chikankari kurtas in various colors, the white one is generally what most men like to wear. You can wear this kurta on festive occasions, during office parties and for other important gatherings as well.

Silk kurtas: Silk kurtas are a comparatively expensive range of kurta for men which are preferred for many festive occasions by the males. These come in really amazing designs and styles and can be worn with a chudidar or pants. If you pick a nicely printed silk kurta and chudidar set and pair it with a duppatta, you'll be ready for your friend's wedding function instantly and look your best in it!