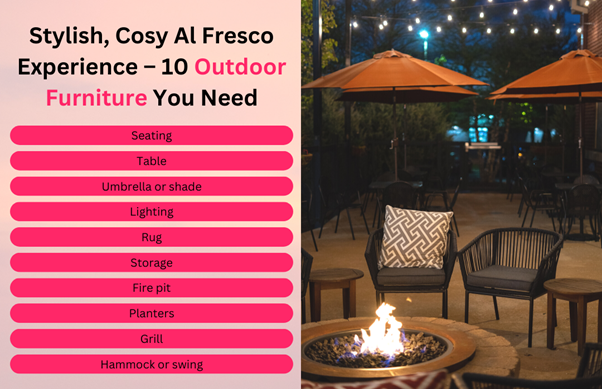 Stylish, Cosy Al Fresco Experience – 10 Outdoor Furniture You Need
They say home is where the heart is. This adage is the reason many homeowners create a cosy house and space. There is no denying that a comfortable and stylish outdoor area is essential for enjoying the great outdoors and entertaining guests. One way to spruce up and add value to your space is through outdoor furniture.
Here are some essential pieces of outdoor furnitureyou need for your alfresco space:
SIT DOWN AND TAKE A LOAD OFF
One outdoor piece of furnitureto invest in is comfortable seating. This must-have for any outdoor space can give you or your guest a good place to lounge and relax. Think chairs, sofas, or sectionals that are weather-resistant and durable to withstand the elements.
COME, SIT AT MY TABLE
A table is essential for outdoor dining and entertaining. Choose a table that is large enough to accommodate your guests and sturdy enough to withstand outdoor use.
STAY COOL UNDER THE SUN
When it gets hot, this outdoor furniturecan come to the rescue! Outdoor spaces can get hot and uncomfortable in the sun. Adding an umbrella or shade structure can provide relief from the sun and make your outdoor space more enjoyable.
LET THERE BE LIGHT
Outdoor lighting can transform your space from day to night. Choose lighting that is weather-resistant and can withstand the elements.
TIE THE ROOM TOGETHER
Another outdoor piece of furnitureworth considering is a rug. Adding this to your outdoor space can add colour and texture while defining the seating area. Go for one that can withstand any weather condition and is easy to clean.
A PLACE FOR EVERYTHING AND EVERYTHING IN ITS PLACE
Having adequate storage can keep your outdoor space clutter-free and organised. When investing in this outdoor furniture, you might want to consider weather-resistant storage options that can withstand the elements.
GATHER AROUND THE FIRE
Adding this outdoor furniturecan provide warmth and ambience to your outdoor space. Choose a fire pit that is safe and easy to use.
GREEN UP YOUR SPACE
Adding plants and flowers can add colour and life to your outdoor space. You can never go wrong with this one. It never goes out of style! Go for outdoor planters, which are weather-resistant and can add appeal to your backyard.
THE HEART OF THE OUTDOOR SPACE
If you love to cook and entertain, consider adding a grill or outdoor kitchen to your space. When getting outdoor furniture, choose a grill with a cover so that when raining, you will never have to worry about a thing or two.
HANG LOOSE
Adding a hammock or swing can provide a relaxing and comfortable place to sit and enjoy the outdoors. Choose a hammock or swing that is easy to remove and set up. That way, you can detach it when it rains and attach it when the sun waves hello!
On the hunt for quality outdoor furniturepieces? Shop at the website of Harvey Norman today!