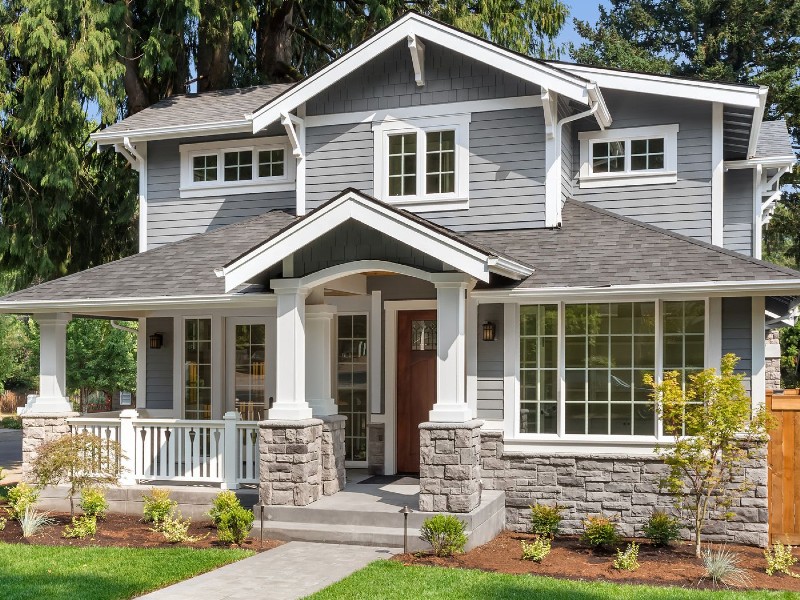 Your guide to choose the best quality exterior paint
One of the most fun phases of a work is choosing the color for the external wall of the house. It is at this moment that we can let our imagination run wild and try to visualize the long-awaited building taking shape. However, when we come across the color chart available, it is hard not to freak out. Do you have any idea how to choose exterior paint colors for a house? We have separated these colors of paint for exterior walls of houses that are among the trends used by architects and are timeless.
White
It is not common to see an entire house facade in this color, however, white participates in several compositions and combinations of external walls and could not be left out of this list of suggestions. The facade of the houses is mostly white, but mixes paint with natural stone, wood cladding and other materials such as metal and ceramic. This is an excellent exterior painting idea for people who want to leave a clean and chic impression without running the risk of looking outdated.
Beige or Off-White
Still staying among the classics of home exteriors, we cannot fail to mention beige. You can opt for off-white and have a similar effect. This is already a color widely used in facades with white details on windows and doors. Certainly, a timeless combination and ideal for those who appreciate light colors and can still get an upgrade if you opt for good external lighting.
Gray
The neutral color easily acts as a wildcard and can offer different results, depending on the palettes and materials that will be associated with it. Two styles are easily put into practice with the presence of gray tones: coziness or modernity. The darker nuances next to black bring a very current industrial vibe.
Earthy tones
Earthy tones give a lot of personality to the house and show that their owners like to get out of the common sense. As with the other colors, the combination chosen will dictate the result. The style of the house also makes all the difference when choosing the colors of the façade. Pay attention to this so you do not run the risk of the result being weird.
Blue
If your dream is to have a "dollhouse" in real life, the light shades of blue are perfect to add that dash of romanticism to your facade. Along with the white or gray in the details of the windows, doors and tiles, the desired effect is present. Blue can offer quite a bold result if you choose the right combination. If you are looking for something very different, bet on the combination of vibrant colors!
Yellow
Yellow tones are excellent when used in facade details and combined with different colors, such as brown and blue. On the other hand, this color can be easily applied to the entirety of the external walls and create a warmer and more welcoming notion. That is why yellow is very common in the external area of ​​farms, country houses and garden walls.
Download Foyr Neo interior software, and play with color pallets to define the exterior of your house.